altra Tona Flow 144 x 44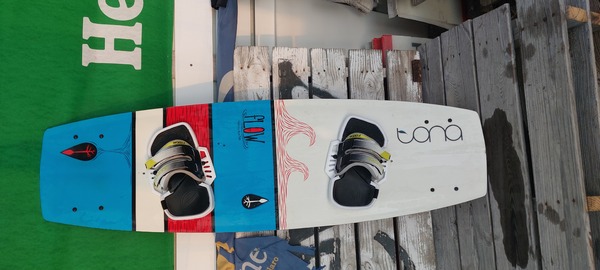 altra Tona Flow 144 x 44
Anno acquisto: 2018

€ 190,00
Descrizione:
Tavola versatile freestyle,freeride qualche segno di usura per utilizzo con boots.
Il prezzo è riferito alla sola tavola
Con pad 270€
Disponibilità boots cabrinha h3 xl 44-46 300€ 2020
This board is Smooth, a joy to carve and soft on the landings.
When Andre got together with Dereck to develop his signature board he wanted something that not only met his demands of throwing aerial tricks, but also reflected his style and love of surfing. This meant coming up with something that gives a lot of pop but also allows for smooth rail-to-rail transitions and carving ability. Together they developed the bottom shape they dubbed the "hourglass concave".
A unique design that when combined with Dre's preferred rocker line, created something that has great pop and superb turning ability while also offering soft landings and a smooth ride in choppy conditions.
---
Inserzionista:
Vittorio, Reggio Calabria - Italy
Utente da oltre
6
anni
Tel:
3933153677
Inserzione numero
548234
Inserita il
05/08/2022 alle 19:51:20