Core Barra Sensor 2 S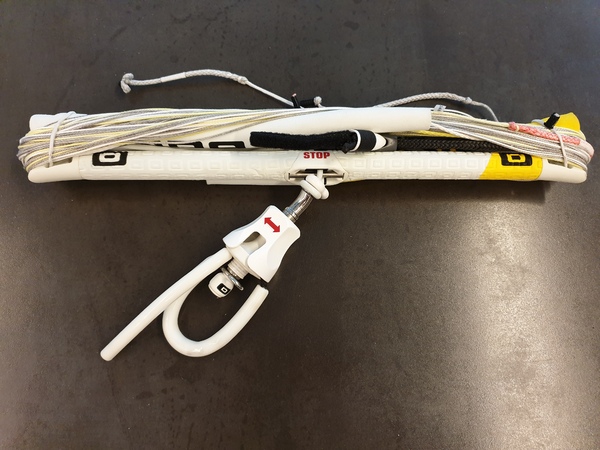 Core Barra Sensor 2 S
Anno acquisto: 2019

€ 299,00
Descrizione:
38016-13
usata un paio di volte
come nuova
24M, 4 LINES
bar super light FANTASTIC to ride
used only FEW TIMES in sweet water: bar like New
CERAMIC UNTWIST: FUNCTIONAL SIMPLICITY. UNTWISTING YOUR FRONT LINES HAS NEVER BEEN EASIER. FRONT LINE TWISTS ONLY OCCUR BELOW THE SENSOR 2S BAR. AN IMPROVED, BELOW THE BAR, SWIVEL WITH HI-TECH CERAMIC BEARINGS UNRAVELS THE FRONT LINES VIRTUALLY ON ITS OWN OR WHENEVER THE BAR IS PULLED IN. THE DAYS OF MANUALLY SPINNING THE FRONT LINE SWIVEL ARE OVER. WELCOME TO THE SENSOR 2S ERA OF SUPER AUTO UNTWIST!
S-NECK: PERFECT BALANCE. THE STAINLESS STEEL CONNECTION BETWEEN THE ROTOR QR AND THE DEPOWER LINES IS SHAPED TO PROVIDE MORE SYMMETRIC PULLING FORCES ON THE LINES. S-NECK: SMOOTHER AUTO UNTWIST. ZERO UNWANTED LEVERAGE. PERFECTLY SYMMETRIC PULLING FORCES. NOW THAT'S SMART.
TECTANIUM S-SLIDE / DEPOWER LINES: THE SENSOR 2S REPLACES THE FRONT LINES FROM THE "Y" TO THE CHICKEN LOOP WITH OUR EXCLUSIVE, NO STRETCH, TECTANIUM. AND WE PROTECT IT WITH A 5.2MM, UV-STABILIZED, POLYETHER WHERE IT PASSES THROUGH THE BAR. TECHNO SPEAK FOR A REALLY DURABLE, SELF-LUBRICATING, NO PINCH, DEPOWER LINE. THE NEW, VIRTUALLY FRICTIONLESS, DEPOWER/SAFETY LINES ARE MORE AERODYNAMIC, PROVIDE BETTER FEEDBACK, AND ARE MORE COMFORTABLE BETWEEN THE FINGERS. JUST WAIT TILL YOU TRY IT. YOU'LL SEE.
ULTRALIGHT UNIBODY BAR: MADE IN GERMANY. THE FEATHERLIGHT, UNIBODY BAR COMES IN AT A MERE 230G. THE KEY TO THE SENSOR 2S'S LIGHT AND SUPER DIRECT FEEL IS FOUND IN ITS LOW MASS AND LOW BAR-END HEIGHT. INERTIA IS REDUCED AND LEVERAGE IS OPTIMIZED. THE SENSOR 2S SPORTS A DEEPLY CONTOURED EVA GRIP FOR LONG LASTING COMFORT AND EXCELLENT HOLD. THE REDUCED DIAMETER GRIP MAKES EVEN GLOVED SESSIONS MORE COMFORTABLE AND LESS FATIGUING.
TITANIUM CORE: LEAVE IT TO CORE TO DESIGN THE STRONGEST BAR EVER. WE ENGINEERED AN INTERNAL, AIRCRAFT QUALITY, GRADE 5 TITANIUM ALLOY TRUSS TO REINFORCE THE BAR. THE TITANIUM'S FEATHERWEIGHT RIGIDITY GIVES, IN PART, THE SENSOR 2S'S DIRECT FEEL. AND IT PERMITS A REDUCED DIAMETER, NO CRAMP, GRIP.
ROTOR QUICKRELEASE: THE ONLY 2-WAY QUICK RELEASE YOU DO NOT HAVE TO THINK ABOUT. RELEASING THE KITE IS AS SIMPLE AS TURNING THE MECHANISM IN EITHER DIRECTION FOR A SIMPLE, SAFE AND INTUITIVE PROCESS. IT'S WELL KNOWN THAT MORE TORQUE CAN BE GENERATED TWISTING THAN PUSHING OR PULLING. UNLIKE CONVENTIONAL SYSTEMS, OUR QUICK RELEASE DOES NOT REQUIRE YOU TO OVERCOME THE FLOW OF WATER. THE ROTOR SETS THE STANDARD FOR EASE OF USE, SAFETY, AND PERFORMANCE. ANOTHER ADVANTAGE OF THE ROTOR OVER CONVENTIONAL PUSH/PULL SYSTEMS IS SIZE. THE ROTOR IS SHORTER, LIGHTER AND MORE COMPACT THAN THOSE OTHER SYSTEMS. ALL THINGS BEING EQUAL, A SHORTER ROTOR PERMITS A CLOSER TRIM ADJUSTER LOCATION. AND WHO WOULD NOT WANT TO HAVE A SHORTER REACH TO THE TRIM ADJUSTER?
SUPPORTED SINGLE FRONTLINE SAFETY (SSF): EXCLUSIVE TO CORE. WHEN THE ROTOR QUICK RELEASE IS ACTIVATED, THE KITE WILL FULLY DEPOWER AND COME TO REST IN A 'DRIFT LAUNCH-READY' POSITION (NOSE TO WIND) UNTIL YOU ARE READY. THE BENEFITS HERE ARE TWOFOLD. THE KITE STAYS PUT AND DOES NOT WANT TO RELAUNCH INTO THE SKY. AND THERE IS NO PULL ON THE LINES WHILE THE KITE IS IN 'DRIFT LAUNCH-READY' POSITION SIMPLIFYING THE PROCESS OF RE-ENGAGING THE ROTOR QUICK RELEASE. SO HOW DOES SSF WORK AND WHY DOES THE KITE NOT 'TURTLE' AND STAY IN THE AIR? THE ANSWER IS THAT THE KITE DOES NOT FLAG OUT ON ONE FRONT LINE OR EQUALLY ON 2 FRONT LINES. SSF RELEASES 100% OF THE BACK LINES AND FLAGS THE KITE MAINLY ON ONE FRONT LINE. BUT SUFFICIENT TENSION REMAINS ON THE OTHER FRONT LINE TO STEER THE KITE DOWN. SO IN EFFECT, IT IS THE SLIGHT (UNEQUAL) TENSION ON THE OTHER FRONT LINE THAT PREVENTS THE KITE FROM TURTLING AND REMAINING SKY BOUND.
SHORT SAFETY LEASH: EXTRA SHORT IS EXTRA SAFE. THE SHORT SAFETY LEASH COMES STANDARD WITH ALL CORE BAR SYSTEMS. WHEN CONNECTED TO YOUR SPREADER BAR, OUR SHORT, 50CM LONG, LEASH DELIVERS BETTER ERGONOMICS AND SAFETY. IT IS EASIER TO SEE OR GRAB AND IT WON'T TANGLE LIKE LONGER LEASHES MIGHT. IF YOU DO NOT SEE UNHOOKED FREESTYLE IN YOUR FUTURE, THEN PROTECT YOURSELF WITH A SHORT LEASH.
SPLICED ENDS: A SMALL BUT IMPORTANT DETAIL RELATES TO HOW WE FINISH OUR LINE END LOOPS. WE DON'T SIMPLY FOLD OVER THE LINE AND STITCH IT UP. NO, THAT'S CHEATING. WE BRAID THE LOOP BEFORE STITCHING AND FINISHING FOR A SAFER, STRONGER, AND MORE AERODYNAMIC CONNECTION.
DURABLE 24 METER LINES: MADE IN GERMANY QUALITY. OUR LINE SUPPLIER, LIROS, IS A NAME SYNONYMOUS WITH INNOVATION AND WORKMANSHIP. FOR EXAMPLE, THEY PRE-STRETCH OUR LINES UNDER HEAT. ONLY 1.8MM THICK AND SPORTING A BREAKING STRENGTH OF 368 KG, THE SENSOR 2S LINES WILL PERFORM BEYOND YOUR EXPECTATIONS. A SMALL BUT IMPORTANT DETAIL RELATES TO HOW WE FINISH OUR LINE END LOOPS. WE DON'T SIMPLY FOLD OVER THE LINE AND STITCH IT UP. NO, THAT'S CHEATING. WE BRAID THE LOOP BEFORE STITCHING AND FINISHING FOR A SAFER, STRONGER, AND MORE AERODYNAMIC CONNECTION.
VARIO WIDTH: ONE BAR COVERS ALL OUR KITE SIZES. FROM 4 TO 19M! NICE. THE SENSOR 2S BAR WIDTH IS ADJUSTABLE FROM 46CM TO 52CM BY MOVING ONE KNOT. THE BEST DESIGN IDEAS ARE THE SIMPLE ONES. SWITCHING WIDTHS IS AS EASY AS 1. PULL BACK THE FLOATER EXPOSING THE BAR END LEADER. 2. UNDO LARKS HEAD KNOT ON THE BACK LINE WHERE IT ATTACHES TO THE BAR LEADER. 3. PULL ON THE OPPOSITE BAR LEADER KNOT AND RECONNECT LARKS HEAD. SIMPLE. AND UNBREAKABLE.
CORE LOOP/STICK SET: YOU WILL EVEN FIND CORE ENGINEERING AT WORK HERE TOO. WE DESIGNED THE LOOP STICK TO MOVE OUT OF THE WAY WHEN UNHOOKING SO HOOKING BACK IN IS EASIER. THIS DESIGN ALSO PREVENTS UNINTENTIONAL UNHOOKING TOO. NICE TOUCH? WE THINK SO.
SENSOR ADJUSTER: EASY, ONE LINE, TRIM ADJUSTMENT FOR THOSE WHO PREFER SIMPLICITY. OUR CLAM CLEAT DESIGN REDUCES PULLING EFFORT BY 25% WHICH IS NOTICEABLE IN POWERED CONDITIONS.
---
Inserzionista:
Wind Riders
, Limone sul Garda - Italy
Utente da oltre
10
anni
Tel:
+393488975467
Inserzione numero
487871
Inserita il
30/05/2021 alle 00:00:00