North Select Textreme 2018 138x41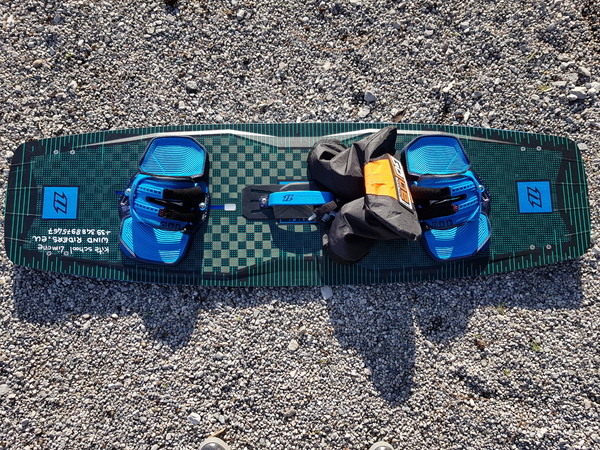 North Select Textreme 2018 138x41
€ 579,00
Descrizione:
138x41
board used only in sweet water, no coral
The North Select Textreme 2018 is the ultimate kiteboard, built with some of the most advanced techniques and materials around. It's the fastest, lightest and most responsive board in the range and is perfect for freeride and freestyle. The 2018 Select now utilises a new 2 Channel mono concave underside using smaller fins to improve its early planing characteristics.
Textreme Carbon offers excellent durability and flex characteristics, whilst being 30% lighter than standard carbon. This futuristic material is what gives the North Select its responsive nature underfoot. By combining this with a super fast rocker line and progressive flex the board really comes alive.
Whilst the board delivers amazing pop, it is also exceedingly comfortable when riding through chop! The Select is the most responsive, technologically advanced kiteboard on the market, jump on and feel the future!
While the 2018 tips have been made wider, they have also been rounded to ensure a smooth ride through chop and aid the carving characteristics. The flex has been tuned to give the board an even more comfortable feeling through chop and give the board fantastic pop. It has a lively crisp feel underfoot and is very responsive to rider input.
Jumping on the Select is fantastic; the flex works with the rider to ensure you get good pop every time. The board offers excellent grip and rides extremely fast when powered, but is still forgiving allowing you to improve as a rider.
The Textreme® STF carbon is Formula 1 tested and 20% lighter than normal carbon fibres allowing North to control the flex in a board like never before.
Usually getting the right flex for a smooth ride and excellent pop is always a compromise, you can't have both. With the Textreme Carbon technology North can offer the rider unrivalled comfort with blistering performance. Excellent for jumping, the Select is extremely fast and very early to get planing.
The Select utilizes unique high-end Textreme Carbon Technology to deliver the "magic carpet" of our freestyle range!
An ultra-lightweight freestyle/new-school twin tip, the Select is super efficient and incredibly responsive and smooth. The Select is a blast to ride and some even say that its precision flex, positive response and explosive pop actually make you ride better!
This precision flex and feel gives you crazy, explosive pop for new-school moves and big jumps and encourages you to step up your riding within minutes of stepping into the straps!
---
Inserzionista:
Wind Riders
, Limone sul Garda - Italy
Utente da oltre
8
anni
Tel:
+393488975467
Inserzione numero
452150
Inserita il
26/08/2019 alle 00:00:00