North Team Series Hadlow 2018 140x 42,5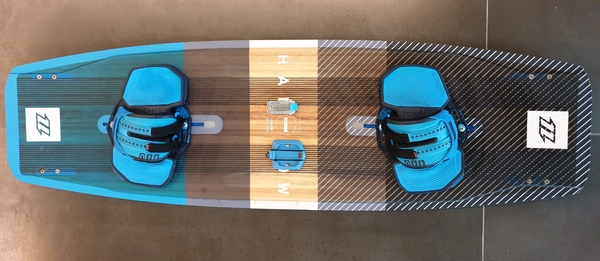 North Team Series Hadlow 2018 140x 42,5
Anno acquisto: 2018

€ 599,00
Descrizione:
The North Team 2018 Series boards have always been the product of evolution. An evolution driven by riders who are pushing freestyle kiteboarding to the next level and whose riding defines the newschool era.
The North Team Series 2018 is the ultimate twin tip in terms of performance, thanks to the Textreme Carbon construction. It also offers impressive comfort for a board in this category. The North freestyle team, Mario, Stefan, Reno, Cesar and even Aaron Hadlow all choose the Team series for competition.
For 2018 the bottom shape has been updated and the channels are now wider, which helps to soften the landings. There is also a new flex pattern with a stronger centre stringer section to reduce the reverse flex and further improve the control when landing powered tricks.
The tips have been softened a little to help the board absorb chop and give a smoother ride and it now ships with North's new Carbon 30 fins. The pop generated by this board is immense and it is also lighter than the TS Hadlow making it easier to manoeuvre in the air during your trick. If you have set your sights on being the best, you need the ultimate freestyle board to get you there. Join our team and get on-board the Team Series!
The Team Series also features our Step Double Concave with Trailerfin construction to provide massive grip and pop. If you want to beat the competition, you need the competitive advantage; the Team Series is it!
The Textreme Carbon construction is 20% lighter than traditional carbon and means that while the board is extremely performance orientated, it is also very comfortable to ride in rough choppy water.
Demanding the most of their boards in all conditions, North are constantly developing new technology to meet the high expectations of our most progressive riders.
Comprised of three high performance new-school boards, specifically designed for and tested by North's progressive freestyle competition riders. With the team's ever-increasing demand on specific performance qualities, the Team Series continues to push the limits of board construction and development.
---
Inserzionista:
Wind Riders
, Limone sul Garda - Italy
Utente da oltre
8
anni
Tel:
+393488975467
Inserzione numero
452070
Inserita il
23/09/2019 alle 00:00:00