North Spike Textreme 153/ 46.5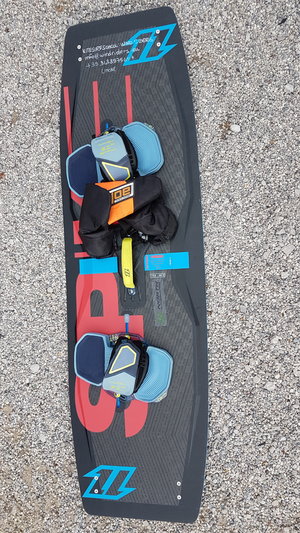 North Spike Textreme 153/ 46.5
Anno acquisto: 2016

€ 699,00
Descrizione:
North Spike 2016 153/ 46.5
PREZZO TRATTABILE!
Tavola in ottime condizioni, usata sempre e solo nell'acqua dolce, no sabbia, no coralli.
tavola completa di pinne e straps e pads originali North ENTITY
-Perfetta come tavola da vento leggero o per persone +90 kg
-ottima capacità di up-wnd
tavola 20% più leggera delle normali tavole North Spike
The legendary Spike just go better! By Taking the test winning shape of the spike 153 and utilizing the most technological advanced construction techniques available, the ultimate light wind free ride board has been created! The textreme carbon construction makes the board about 20% lighter than the standard version, but more than that it makes it more responsive underfoot. When there isn't much wind every gram counts, yet that isn't the only great thing about this board. The impressively low weight characteristics flex pattern and rocker line combine to make Spike Textreme not only the first twip tip to get going, but also the most fun! The board flies up wind and delivers an impressive amount of pop; at 153 cm long it isn't a door and feels nimble underfoot when on the water and jumping through the air.
This board is all about having fun, and having fun when you might otherwise be stuck on the beach.
If the wind doesn't want to play ball, go for a play on the Spike Textreme and defy the laws of physics...
Finally fantastic up wind performance 
the first photo is of the board with the light blue fins, the second photo is of the board with the green fins
---
Inserzionista:
Wind Riders
, Limone sul Garda - Italy
Utente da oltre
6
anni
Tel:
+393488975467
Inserzione numero
380685
Inserita il
25/08/2017 alle 00:00:00